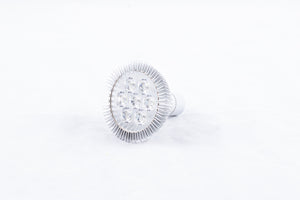 120 VAC LED Work Light Bulb
Part #:
1002110
Contents:
1 LED Array 120VAC Light Bulb
Used On / Where is it Located:
A15 Merlin
S15 Falcon
S35 Kestrel
S70 Peregrine
Located above the Cooler Tray of the Roaster
NOT compatible with S7 Nighthawk
Parts Service Factor / Life Expectancy:
Life expectancy is dependent upon roaster usage, replace as needed. Symptoms indicating replacement needed include No Light, Flickering Light or Dim Light. This is a 110v Light Bulb. To troubleshoot an inoperable light bulb, use a standard bulb in the fixture. This will rule out any issues relating to the circuit breaker, switch, fuse or wiring.